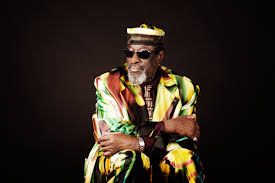 Last March I went over to Europe for four shows. He was really trying out a few new approaches to his music. It was really great! I went over with Mark Peterson. It's always great playing Mark and Blood. It's a groove that goes all the way back to the early 1990s. Mark was actually the person who pulled me into James Blood Ulmer's world. Funny enough the trio was sort of put together through Meril Amdursky a really nice accountant in Manhattan.
She was working for an accounting firm that had Blood's account. I believe Mark also had an account there. He met Meril and she put him in touch with Blood! Mark then called me while  to come and play for him while I was actually playing with his brother Anthony in a band with Hassan Hakmoun and Zahar in Europe. We were in Portugal and the two of them were on the phone (definitely no skype or FaceTime then!). Anthony turned to me and said "Mark wants to know if you want to play with James Blood Ulmer." I kind of paused for a moment moment before I could say anything Mark Anthony shouted at me "Say yes Mother Fucker!" and then he simply said yes for me. He was so hilarious that way! He is also an amazing guitarist and a true inspiration. When I returned to New York Mark and I went to the music Building rehearshal spaces on 8th avenue and rehearsed all the music on Blood's latest recording at that time called 'Blues All Night'. We then went directly over to his loft for my "audition/rehearsal". After the session Adamu (Blood's Muslim name) looked at me with a smile and asked "will you play with me in Germany in a couple of days?". We were off to play at the Leverkusen Jazz festival two days later. That was a pretty great time for me! How could I have known how much great music we would play and that we would become such good friends over the decades.
We only played four shows on this last trip but they were fiery! One of the shows was at the famous Bayerischer hof jazz club in Munich Germany. This place is very special to me. First of all it's in one of the most prestigious hotels in the world so the accommodations are at the very highest level. Secondly, I recorded a live CD in that club in 1994 with Blood called " The James Blood Ulmer Blues Experience – Live at the Baeryischer hof".
It was the first published recording upon which I felt good about my playing. I have played at that club many times since 1994 with other musicians but it was exciting getting back in there with Blood.
When I saw James Blood Ulmer last he was thinking of doing a much longer tour and possible recording a CD right after. I guess we'll see how things turn out, but I'm sure more playing is on the horizon for this particular trio. Check out the following to see what it was like then!