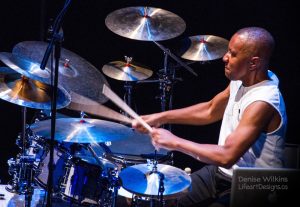 The month of May is here and it's drum month once again! Long & Mcquade stores have a plethora of drum clinic events throughout the month in most locations across Canada. I'll be doing five clinics at five Long & Mcquade locations and one at O'Neill Collegiate in Oshawa. The trio will be at three of these events and I will be doing the rest by myself. It's been a while since I've done clinics on my own, and I got to admit that having Kim Ratcliffe and Brad Cheeseman with me has spoiled me! It's nice to get some input from non-drummers during the event. At least they're going to be on some of them.
I'm going to continue covering the material that I did last year on being the backbone of the rhythm section. I'm also going to do two of them on tempo and independence in variatious musical styles.
Here are the dates and locations. I hope to see you there!
May 18 – Oneill Coliegiate –
(Trio)
301 Simcoe Street North




Oshawa, Ontario

(Private for School)


L1G 4T2
May 27 – North York Long and Mcquade – (Trio) 2777 Steeles Ave W
North York, Ontario, M3J 3K5 fmontalto@long-mcquade.com (416) 663-8612